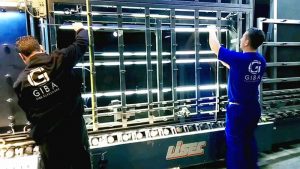 Glass processing is a combination of skill, ambition and technology. Such a brittle material can be transformed, carved, cut, processed so as to become very resistant, almost in the same way as the people's character is.
The properties of glass and the enormous possibilities of processing, both at the industrial and residential level, inspired us more than 20 years ago and led us to follow a path that seemed difficult due to the great need for investment, but also attractive due to the growing demand on the regional market.
And, after more than 20 years have passed, almost all our predictions came true.
A spectacular growth of the market, especially due to the construction of new buildings led to several challenges, arisen both through an increasing demand, but also through the increasingly sophisticated demand from customers.
We could say that we answered in an elegant way, by granting investment directed both to the high technology, but also to a process of management of the operational flow that offers to us today the ability to answer precisely to our customers' requirements.
We can process up to 10,000 m2 of raw glass on our industrial platform.
We managed to develop several methods for processing flat glass.
We can produce a wide range of glass products, among them, first of all, double-glazed windows, those "sandwiches" containing two, three or even four sheets of glass, separated by warm-edge or aluminium spacers.
We can manufacture furniture and glass doors, shower cabinets, curved or bent glass, glass partitions, sandblasted, painted or printed glass, stained glass.
We use the latest technology, Watter Jet, which allows us to make cutouts in glass in any shape desired by customers.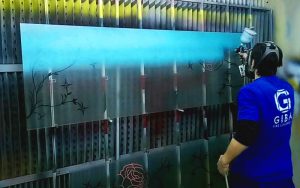 Beyond technology, while taking every step, we rely on a team of extraordinary people who shared our passion to obtain that glass product which the customer wants. In order to have excellent results, we attracted new partners and top suppliers, firstly being mentioned here the Saint Gobain factory providing us with a clear, high quality glass, Den Braven, Abitare CG or According Group providing us with adhesive or insulating materials, as well as our suppliers from Germany providing the best sealants and the best molecular sieve on the market, used in manufacturing double-glazed windows.
Obviously, glass has become our favourite material and we can state without reservation that we can transform it to the extent of our customers' creativity. Therefore, if you have ideas for your house or office, do not hesitate to take up the challenge. From the glass walls for tower blocks to objects of art, we have the technnologies and the appropriate processing capacity in order to provide you with the products you need.
For further information or questions, please use our Contact page or our contact information presented at the footer of the page.